Reviews
Reviews
What do our customers have to say? 
Boisits - Sept 2020
Amazing Seller to work with. Very response and completely customized for me. Could not be happier, thank you :)
I received my wigwam even earlier than expected and was so pleased with it. The design, style and quality all brilliant! Would definitely recommend
Marcela- Feb 2020
The photos don't make justice to how amazing these teepees are! Nuala was so helpful answering all of my questions and help me create the most stunning custom made and one of a kind teepee for my kids. There is so much attention to detail, so lovingly handmade. This is something that I hope my children will get to enjoy for many years to come.

If you are thinking of buying a teepee, then Nuala is your lady to go to. Her creations are stunning and you won't regret it. Support a local business :)
Erica- Dec 2019
My daughter loves her teepee mat - immediately lays down and rubs her hands and face on the soft sherpa :) She would sleep on it if I let her!
Seriously the cutest! She did a custom flag order to make my son and daughter's shared bedroom tent look like a Medieval tournament tent!
Got this teepee for my daughters birthday. I love it and she loves it. Good size. Fast delivery. Great quality and unique.
Seriously the MOST AMAZING bday present ever!! Bought this for my twin nieces and it's perfect. VERY nicely made and she was awesome to work with.
So pleased with this product. Seems really well made and looks brilliant. My son absolutely loves it. Very quick service too, would definitely recommend.
Claire - Feb 2019
Absolutely delighted with teepee. Looks beautiful and extremely well made. Fantastic communication from seller. Would highly recommend! Thanks
Lola - Feb 2019
Absolutely fabulous quality and a wonderful seller! I really struggled to find a teepee that would fit our little space for our son. This pet teepee is perfect for the smaller home. He loves it. The seller was so helpful sending me a choice of fabrics in our colour scheme and the tent was made and arrived really quickly. Thanks so much Nuala! This seller deserves Some sort of Etsy award for brilliant service and top quality items :)
Esrah - Feb 2019
I've never experienced such great costumer service and understanding. Fast reply's and such amazing site that will help you with all your needs and request. Tents are really nice as well as great quality!!! Thank you and I appreciate everything!!!
Gillian - Jan 2019
Ordered a teepee and have to say I have never had better customer service from any company. Nuala was so reassuring when there was an issue with an post that meant I never had to worry about if it would arrive on time for Christmas. She really went above and beyond what I would expect and it just made me even more glad I chose Maple and Spud to make my sons teepee. The quality itself is fantastic and I know it will last and be loved for years to come. Thank you so much 
❤️
Jennifer - Jan 2019
This Sherpa mat is absolutely gorgeous and WONDERFUL quality. She exceeded my expectations and was so wonderful to work with. Thanks for making my mat custom fit. You rock!!!!! Delivery was quick and easy. I was hesitant and looked for a mat in the US ,but the quality I was finding couldn't touch these.
Becca - Jan 2019
Phenomenal quality, great communication, and fast shipping!
Gemma - Jan 2019
Amazing Teepee, great quality. Our little boy loves it so much. The seller was lovely and replied to any messages promptly. She couldn't have been more helpful. The seller posted the teepee on time and followed up to check I received it okay when there was a failed delivery attempt. I would highly recommend getting a custom made teepee from Maple and Spud Designs. Thanks :)
Ruth - Jan 2019
Absolutely wonderful! Very much appreciated, .. particularly by me (mum) ;-)! Thankyou very much!!
Product is beautiful and Nuala is a pleasure to deal with
Aoife - Dec 2018
Your beautiful tent made Xmas very special this year. Absolute pleasure to deal with you and loved the whole process.
Sunshinetelaviv - Dec 2018
Very friendly seller! Beautiful teepee. I bought it for my kids' room for decoration. Highly recommended.
Amie - Oct 2018
We had this tent made for our granddaughter!! Nuala was great to work with and I would highly recommend her and her shop!!
5 Stars
The teepee exceeded our expectations. The material is very high quality and it was very easy to assemble. Nuala was a pleasure to deal with from day one, she was very quick to respond and in the end she did a custom design for us which made it extra special. We needed it quite quick and Nuala had it delivered right on time! My son adores it! I would highly recommend maple & spud!
Jaclyn - Aug 2018
Love this teepee mat! Looked all over for one but couldn't find what I was looking for here in the US, even online. Was hesitant to order this one from Ireland just because it seemed crazy to have something shipped so far but so glad I placed the order. The seller was really friendly and the mat is great quality. It fit my daughter's existing Pottery Barn Kids teepee perfectly. (I'd honestly rather have one of the seller's custom teepees but the one we have was a gift from Grammy.) Especially love the loops that keep it in place. Great workmanship and washes easily. And, amazingly, shipping only took a week!
Angela - Aug 2018
Excellent service! Prompt response! High quality product!
Mabel - July 2018
Absolutely love our new teepee which has been up in our living room since it arrived. We had friends visiting with 2 other kids and the teepee was perfect for them to all sleep and play in. Nuala, was lovely to communicate with and eager to find the right look to personalise the teepee for my little boy. Then everything arrived so quickly and efficiently. Couldn't ask for better service. Want to give everyone in Nuala's team a big virtual hug 🤗
April - June 2018
This is the most amazing teepee ever and I thank you so, so much! Great quality, amazing communication and quick ship.
How beautiful and amazing are these custom flags! Thank you!
Elizabeth - Apr 2018 
Love,love,love it! Great, efficient service - lovely quality :)
I'm so glad I added two flags to my order - it's really made our tee pee!
Fantastic item. Great/friendly/speedy service too :)
Sofi - March 2018 
Beautiful quality tent that my son really loves. It was really lovely dealing with Nuala. She is super helpful and quick with responding to everything. I'll be sure to recommend Maple and Spud!
Melissa - March 2018 
I am absolutely in love with the teepee I purchased.
It's roomy and extremely cozy.
My boys love taking a nap in their new teepee!
Thank you so very much!
Play mat is very comfortable and is thick. It's perfect for the teepee. Love it!
Samantha - March 2018
I couldn't have received a better service from anywhere. It was an amazing present for my daughter I couldn't have wished for more. Nuala was so personable and made it very easy to put my own personal spin on our teepee. She totally got my style and seemed to bend over backwards in order to help me. She went above and beyond what I expected. If only I could have a teepee in every room.
Amanda - March 2018 
This mat is perfect for my daughter's teepee. Nuala even made each side a different shade of pink to match since I purchased the mat at a later date.
Also received the organic burp clothes which are so amazingly soft. They quickly became my favorite and I use them over and over again. They wash easily and hold up well!!
Patti - Feb 2018
This process was the best, the seller was helpful in every way. She helped me with the design, the colors, and the setup. I would definitely shop on this site again without hesitation. 😀👍
Nicole - Feb 2018 
My son loves it!!!!
Thank you!!
Michele - Jan 2018
Thank you for making this beautiful tee pee for our daughter Colette. We received it shortly after the New Year and it is her favorite Christmas present of all time! She is enjoying her quiet space and likes to sit and play or read there while she listens to music in her room. It looks so beautiful in her bedroom and we appreciate the quality materials and workmanship that went into making this special sanctuary for Colette.
Martha -Malta - Jan 2018
The tent is beautifully made!
Rachel - USA - Jan 2018
So fantastic. My pup loves it!
Jenilyn - Dec 2017
It came just as expected. My dog loves it! If I could post a photo, I would!
Soooooo lovely. I'm really pleased. It's great quality, easy to assemble (even after Christmas Eve vodkas), if I had room I'd order more! Thank you, my son will be over the moon x
Sarah - UK - Dec 2017
I am so pleased to have found this shop.... I searched high and low for a custom made teepee that was made from quality material and for one that would match my little boys room. Nuala was extremely helpful in answering my questions and I could not be happier with the service I received. The teepee was extremely well made and I know it will last a long time. My little boy was over the moon to recieve it on Christmas Day.
Holly _ Dec 2017
Seller was quick to respond and was able to create a custom size and fabric color I wanted, the quality is great as well. Thanks so much
Jameie - Nov 2017
Perfect Tee Pee for photo shoot and to use in play room. I know Carly and her big sister are going to have so much fun playing in this Tee pee
It's perfect!!! Thank you so much for being so helpful!!!! My daughter will LOVE it!!!!!
Julie - France - Nov 2017
Très satisfaite du tipi et de l échange avec la vendeuse. Un soucis avec un prénom lors de la traduction, elle m en a donc renvoyé un nouveau avec même un petit cadeau. Le tissus est de très bonne qualité
We received this Tee pee really fast, communication with the seller was great. Tent is made beautifully high quality. I am so happy I went with this one. It's in our living room and we love it.
Rachel - Oct 2017
Great service and communication. Product is fantastic too. My 3 year old loves it
Anusha - Sri Lanka Sept 2017
Really well made! The seller was by far the nicest seller I've dealt with.
Amanda - UK - Sept 2017
Such a beautiful teepee!! Nuala puts great love into the details of her tents and was very helpful in the ordering process. My daughter loves her new little place to play!!!
Kirsty - Sept 2017
I am so happy with the Tepee, it is so well made and appears very durable and my little boy loves it!! Communication with the seller was excellent and shipping was fast. I highly recommend this shop!!
Samantha - USA Aug 2017
Bought it for my sons birthday. Product is beautifully and strongly constructed. I asked for ideas in customization and the owner was very creative and eager to help :) shipping was fast, thinking of getting one for myself ! LOL
Erika - July 2017
I just love the teepee! And so does my daughter, just fabulous service. The teepee is made to such a high standard and goes beautifully in her new room. The service was fantastic, really helpful with colours and matching, a lovely, helpful lady. Thank you so much!
Silvia - July 2017
The soft pink mat for my daughter's mini teepee was just perfect! So happy I ordered from here. Thank you!!
Caitlyn - USA April 28, 2017
Such wonderful communication, and received the teepee just as quickly as promised. I just set it up in my daughters new room and she loves it!
Carmen - USA - April 25, 2017
It arrived quickly and is of great quality!! My son loves it. Nuala was wonderful and super nice!
Carla - USA - April 6, 2017
To work with Nuala was definitely a pleasure. The teepee is more beautiful that expected ( and i was expecting a lot! ) every detail is brilliantly made and the results is simply amazing. My daughter loves it, it's seems to come from a fairy tale. Thank you Nuala
Shelby - USA - Mar 8, 2017
Manon - The Netherlands - Feb 28, 2017
This looks great in my sons bedroom, we love the fabric, the color and the flag. Nuala responds really quickly and so very friendly. She also made a personal flag for my daughter to match the tent we already had for her and it looks very good. We are struggeling to set up the tent in the right way.
Italia - Australia - Feb 7, 2017
Your work is wonderful, thank you!
Sophia - UK - Feb 6, 2017
Beautifully made, plenty of room for my 9 year old to relax in with the dog! Can't wait until we can take it into the garden in the summer. Thank you Nuala, for your speedy response, and having it delivered well before Christmas.
Goldie - USA -  Jan 31, 2017
I am really happy with the tee pee tent I ordered for my kids for Christmas! They love it and want to do their homework in it. Hopefully I can get them to read in it too:)
Amber - USA - Jan 22, 2017
I HIGHLY recommend this shop! The quality of our tent is amazing. It is so beautiful, better than we expected and our son absolutely loves it. The owner of this shop is also excellent. She was so quick to respond and so helpful with the many questions I had. If you're looking for a sturdy, perfect tent from a shop who really cares about their customers, order from MapleandSpudDesigns!
Silvia - UK - Jan 11, 2017
Very nicely finished. I placed my order without reading properly the features of the item I was ordering, but it wasn't a problem because I was able to send the item back and replaced by want I was expecting. Very kind and helpful. Highly recommended. Very pleased with the item. Thanks!!!
Tiffany - USA - Jan 11, 2017
No words can describe how pleased I am with this shop! I ordered this beautiful tent for my niece's reading corner. I ordered about 2 weeks before Christmas... it was a last minute order and I was honestly expecting to receive it after the holidays. To my surprise the package was waiting for me at my door on Christmas Eve!!! Nuala had her eye on my package from the moment she shipped it to the moment it was at my doorstep! She emailed and messaged me with updates constantly. Not only was the shipping process smooth, the quality of the tent is great as well! Looks exactly like the pictures and very easy to put together. My niece loves her new tent & I'm 100% satisfied with this shop and their customer service! Thank You <3
 Debbie - USA - Jan 2017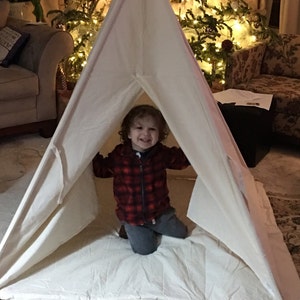 Thank you so much! It is beautifully made and Harrison loves it! Highly recommend!
A beautiful custom made den of the highest quality. My girls love it and have not been out of it since it arrived! I would highly recommend Maple and Spud Designs. From initial design to delivery it was a seamless easy process. 5 stars
 Amanda - USA - Dec 2016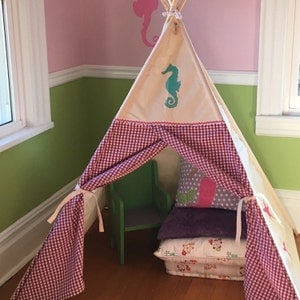 Beautiful and was so generous in fitting in a custom piece so close to Christmas. Exactly as described, great quality and communication. Thank you
Gail - USA - Dec 2016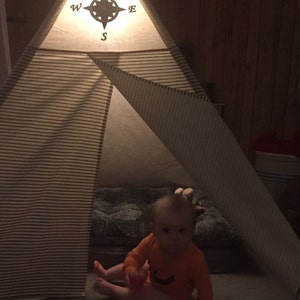 My lil one loves his teepee! I will absolutely shop with Maple and Spuds again. Fast shipping and great communication!
A beautifully made Tepee, shipped on time and was exactly what I expected. It was pricy but worth it as I just know this is going to get a lot of use. I am now having fun making the play mat, bunting and cushions to go with it and can't wait to see my Grandson's face when he comes to see us on Christmas day. I know he is going to love it. A great product and I am very happy to be supporting business in Ireland, which is my favourite holiday destination!
Service and quality were amazing! The teepee is beautiful!!
Working with Nuala was a pleasure! I ordered 2 teepees, one for my daughter and one for my nephews. I had some ideas in mind for my daughter, but I let Nuala have free reign with the design and the teepee turned out amazing! I haven't been able to set it up yet because I barely get a moment alone to myself, but I'll post a picture at Christmas. I highly recommend Nuala and MapleandSpuds. Once my baby boy gets a few years older I will definitely be ordering another. :) Thanks Nuala!!!!
Katrina - Australia - Oct 2016
Purchased a teepee for my daughters' Christmas present- wow what a great choice! Nuala was a pleasure to deal with and was more than happy to make a custom creation for me. The final product is stunning and exactly what I had in mind. Can't wait for my daughter to see it on Christmas morning, I'm sure she'll have many happy memories playing with her special play teepee!
I got this teepee for my nephews as an early christmas present. It's beautifully made and so easy to set up. Looking forward to giving to them. Thank you
Connie - USA - OCt 2016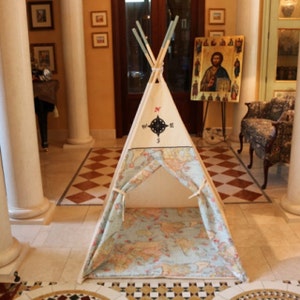 The most amazing shower gift ever! Excellent quality and customer service - cannot wait to order more items from Maple and Spud Designs
 Claire - UK - Sept 2016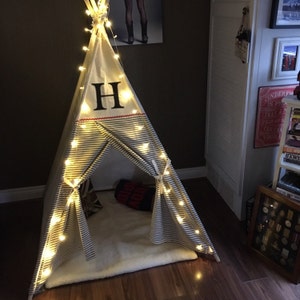 It's just perfect!!!! Nuala is so helpful! My little boy is going to love it!
This teepee is too cute! My grandsons love it! The seller was very kind to answer every question very quickly. The teepee is adorable and very sturdy! I was amazed how quickly it got to the USA from another country.
Stephanie - USA - Aug 2016
I received my teepee and absolutely Love Love Love it! Mapleandspudsesigns were quick to respond and made placing a custom order so easy. I also received it very quickly. She did a lovey job! I get compliments all the time about it. The teepee is well made and super super cute. I was just as excited as my one year old son (if not more)! Thank you so much!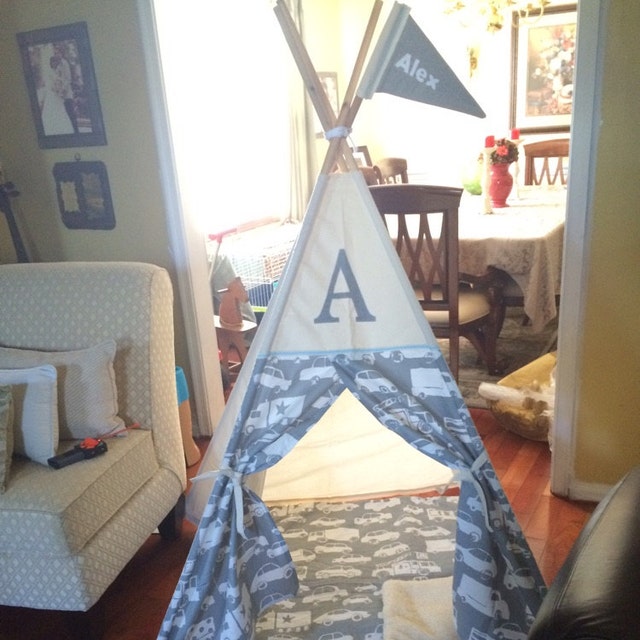 Lisa- USA Aug 2016
This teepee is too cute! My grandsons love it! The seller was very kind to answer every question very quickly. The teepee is adorable and very sturday! I was amazed how quickly it got to the USA from another country. 
Robyn - Dublin Aug 2016
My little girl is THRILLED with her new teepee. Thanks Maple & Spud ☺️
Jessica - Cork - July 2016 
Thank you so much Nuala. It's fab!
Brittaine - USA - July 2016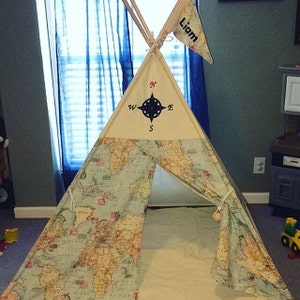 Love it!
Ronja - USA - July 2016
Beautifully made play tent, with attention to every detail. The birthday girl was over the moon. Thank you!
Blakely - USA - July 2016
Excellent communication and customer service! My son LOVES his teepee! Extremely well made. Highly recommend!!
Ginny - USA- June 2016
This was perfect!!!!!!! The kids loved it!
Aoife - Dublin - June 2016
Absolutely gorgeous , material is wonderful for kids , for folding down, for cleaning , the mat is so soft and comfy, really love the personalised flag, all in all, no hesitation recommending this tent , Nuala was so helpful , warm and friendly also! ??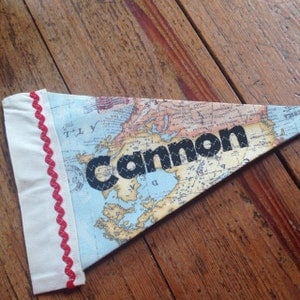 Hamida - Dubai - May 2016
So in love with the quality of the teepee. The seller is very helpful. Loved dealing with you.
Jandi - Wyoming, USA- May 2016
Adorable teepee! My boys love it!
Dror - Israel - May 2016
I cannot be more happy with this purchase. The tent is perfect abd shipment was on time. Thank you so much!!
Krista - USA - May 2016
I could not be more thrilled with how this turned out! The teepee is exceptionally well made, even better than I imagined. I really appreciate how responsive Nuala was, and how receptive to my ideas. I will be back to get another teepee for my nephews when they are old enough! Thank you Nuala!!
Deanna - USA - April 2016
Got it and love it! Thanks so much!
Yana - USA - April 2016
Nuala did an amazing job on our compass teepee. She was so patient and encouraging with my custom requests, open to doing whatever I wanted done to it. The quality is very good, the material is strong. Her work is beautiful. Thank you Nuala!
Linda - USA - April 2016
I ordered a tepee for my son's 2nd birthday and received the package in very timely manner so I was able to set it up and surprise him with it. The tepee and all of it's details are absolutely gorgeous! I have received many compliments for it already and my son never gets tired of playing in it. Thank you so much, I am very happy with how everything turned out and how easy it was to design and order!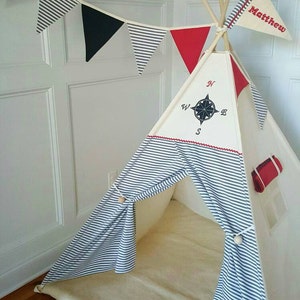 Alison - Wales - Mar 2016
The perfect transaction :-) Communication was a breeze, straight forward, clear and plenty of pictures of fabrics and ideas. I knew exactly what I was ordering. The teepee arrived bang on time as expected, and only took a few weeks to make - very impressive work. The teepee itself is delightful. Good quality fabric and workmanship have made a beautiful, clean, airy, safe little hideaway for my special little person. It even came with instructions for how to put it up (really easy) and a neat bag to keep everything in when not in use - which is not often! Everyone should have a teepee. Very grateful for your work, excellent communication and great, friendly and professional service. I wish I had room for more teepees as I'd definitely do this again.
Kealey - UK - Mar 2016
Absolutely beautiful custom made teepee loving made for my little boy in which he will make memories of endless joy and treasure forever. Shes a wonderful lady who is dedicated and ensures you get the product you really want. She was in constant contact throughout and provided us with excellent ideas so we had a unique piece. Arrived quickly and very well packaged!!
Ronnie - USA - Mar 2016
My two toddlers absolutely loving the teepee! The quality of the teepee doesn't even come close to those fancy ones sold online! The owner of the shop made sure all my questions were answered in the matter of minutes despite a big time difference between us. The shipping was very fast as well. Outstanding service!
Ruby - UK - Feb 2016
Absolutely beautiful teepee, my daughter has spent many hours already in it! Wonderfully made. Perfect purchase from start to finish, Nuala was excellent with communication and letting us know how the process was going. A star from us!x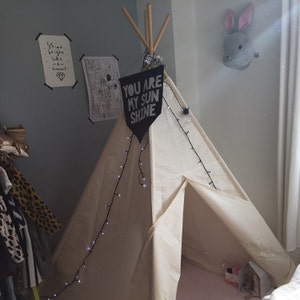 Samantha - US - Feb 2016
Nuala was such a pleasure to work with! I asked 1,000 questions and she answered each and every one! She customized my order to my liking and was so helpful through out the process! Great business woman, amazing talent! Will post pics after we give the teepee to our daughter!!! Thank you again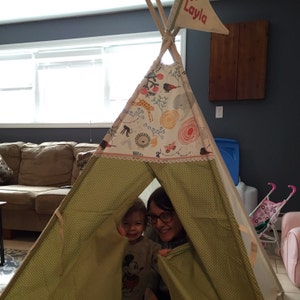 Mandy - UK - Feb 2016
Absolutely fantastic teepee!! Made beautifully with decent sturdy fabric. My daughter loves it. Would 100% recommend. Thanks Nuala.
Lori - UK - Feb 2016
The owner of this store was amazing to work with and the quality of the teepee is beyond what I could have wished for. Excellent shop! Thanks for a great experience!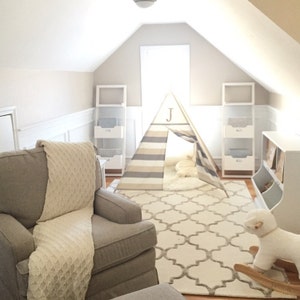 Julian - Aus - Jan 2016
Thank you. It's just beautiful and something we hope to keep in the family for a very long time. Our boy loves it.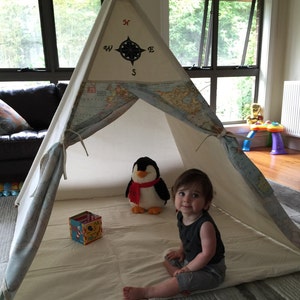 Stacy - UK - 2016
I adored this item!! Excellent communication from Nuala, fast delivery considering I ordered last minute befor Christmas. It's so beautiful and so well made. The stitching & presentation is exceptional and so neat. Such a fabulous gift for children. My son Hugo loves it's so much and often find him hiding in there reading his books. Nothing more to say other than 5*.. X
Lorraine - Ireland - Jan 2016
My little girl loves her teepee. Nuala was brilliant to work with. A fantastic job. Thanks a million Nuala :)
Sophie - UK - Jan 2016
We are so thrilled with our purchase! Nuala was fantastic from start to finish and went above and beyond to ensure she delivered to our needs. The item itself is great quality and is something we will treasure for years to come. Thanks Nuala for everything :-)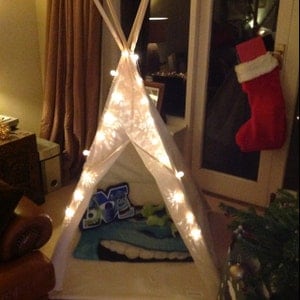 Louise - Ireland - Dec 2015
Delighted with my purchase, as is my daughter! She loves her magical tepee, the perfect little reading spot she's always wanted!! This will be treasured for many years to come! Thank you Nuala! Such a lovely talented lady!!
Katy - US - Dec 2015
The Teepee Play Tent is stunning! Very well made and beautiful fabrics. Nuala was a pleasure to work with on my custom order. Shipping from Ireland to US was very fast! I highly recommend ordering from Maple and Spud Designs !!
Kelsey - US - Dec 2015
Couldn't be more pleased with the product itself and the overall experience of working with Maple and Spud!!!! Highly highly recommend!!! Can't wait to see my sons face Xmas morning!!!
Chiara - Italy - Dec 2015
Grazie Nuala!!!!!!! Il tuo Tepee è stupendo.... I miei bimbi lo adorano.... ??????⛺️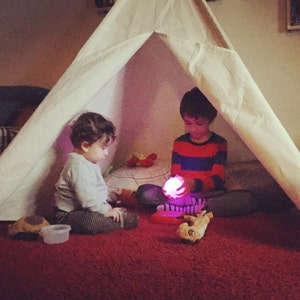 Sarah - Aus - Dec 2015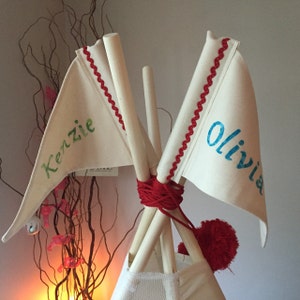 Absolutely love them! And they matched our teepee perfectly. Custom order, so simple by providing picture of teepee. Very happy!
Cassandra - USA - Nov 2015
My teepee is amazing! Nuala's attention to detail and customer service was above the rest. This is such a special gift we'll have for a very long time. In a world that is full of bad service, Nuala is a star in every way. The quality of the tent is above all and it was super easy to put together. I need to rearrange the wood poles a bit to see the full compass but that is just my wrong doing. Thank you!!!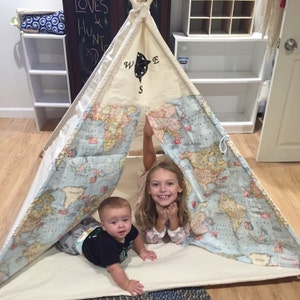 Clio - Greece - Oct 2015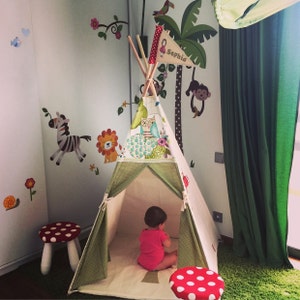 One of the best sellers, cooperative, attentive and highly professional, we created a custom teepee to match her playroom. My daughter loves it, and we will definitely visit the store again!
Adrianne - Canada - Nov 2015
Nuala was an absolute pleasure to work with. She created the most beautiful custom teepee for me daughter who now uses it daily as a retreat when she is overwhelmed. Nuala put so much care and effort into the process and it shows in the final product. She was really quick to respond and communicating with me the whole way through which was wonderful. Thank you so much going Nuala:)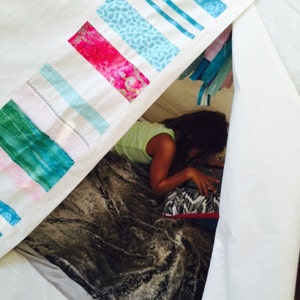 Dottie - USA - Sept 2015
Love this teepee! My daughter was so excited when we set it up. Thank you for custom making the pad for the bottom to match as well. The turn around time was faster than expected and the quality of the work is outstanding! There have already been hours of play inside this teepee and i'm sure there will be many many more =)
Catherine - Ireland - Aug 2015
Wow is all I can say, from the product & its packaging, to the very personal & timely service I received from Nuala. We bought the teepee for my daughter as a special area for herself & Daddy to read her books in. She was just moving into her own room so this provided the amazement & excitement we were hoping it would, for her step to independence. Nuala created a stunning custom flag for our little girl & went above and beyond to ensure we got it within the week (& while preparing for holidays herself). Nuala accommodated all requests & was very personable & passionate about her products. The teepee itself was just as special as I had imagined. The detail of the bag (it can be stored in), stitched logo & any customised items you order are beautifully crafted & unique. All in all I'd recommend highly. It's any child's dream :)
Caroline - UK - Aug 2015
Absolutely love the teepee I ordered for my 3 yr old. Nuala was a joy to deal with, and no request / change was too much hassle for her. Excellent service. Thank you!
Emma - UK - July 2015
I LOVE this teepee! Couldn't be more happier with the quality and the service I have received! Custom order, and it exceeded my expectations! Brilliant! Xxx